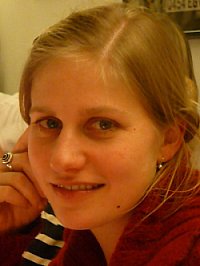 Kerstin Tiefenbacher
Born in 1979 in Bregenz, Austria. Social- & Cultural Anthropologist, received her master degree in Social and Cultural Anthropology in 2005 and the diploma "Academic Latinamericanist" in 2009 at the University of Vienna. Research fields: Gender Studies, Feminist Anthropology, Medical Anthropology; Fieldwork in Rio de Janeiro, Brazil, in 2004, 2008 and 2009. From 2006 – 2010 staff member of the Department of Cultural and Social Anthropology, University of Vienna (student assistant) and of the Austrian Latin America Institute (EU projects for scientific cooperation between the EU and Latin American Countries). Active member of MASN-Austria, Centre of excellence and networking office for culture and social anthropological innovations and projects.
Research Awards: Research Scholarship (2009, University of Vienna, Grant for Brief Scientific Stays Abroad (2004 and 2008, University of Vienna)
PhD project
Global Intimate Relationships - case studies from Rio de Janeiro, Brazil
The project investigates the socio-cultural, political and economic dynamics of the transnational field of encounter of global tourism. It focuses on the "global sexual landscapes" – or "sexscapes" – that have arisen due to new possibilities and organization of (long-distance) travel and encompassing in the form of sex-, romantic- and love-tourism. The present project concentrates on a selected hotspot in Latin America (Rio de Janeiro, Brazil) and illuminates the forms, characteristics, and consequences of intimate contacts in this so far little studied sexscape. Particular attention is devoted to the analysis of intersection of multiple categories of difference in order to point out new dimensions of violence and agency in a transnational, globalized context.
Contact
Email: kerstin.tiefenbacher [at] univie.ac.at
Phone: + 43 (0) 1 4277 - 49471
Univ. Prof. Dr. Birgit Sauer

Institut für Politikwissenschaft
Universitätsstr. 7
A-1010 Wien