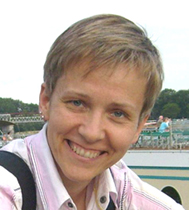 Susanne Hochreiter
Born 1970 in Vienna, is assistant professor of German Studies at the German Department, University of Vienna. She studied German philology, history of art, philosophy, psychology, and education at the University of Vienna and the Free University Berlin. In 2003 she received her PhD from the University of Vienna. In her PhD thesis she analyzed the relation of space and gender in works by Franz Kafka.
Hochreiter was visiting professor at the University of Bern (2001) and at Wake Forest University (2007-08). In 2006 she received a grant for research work at the University of Hamburg.
Her research interests include gender relations and gender constructions in literature, queer studies and literature, performance and performativity. She is co-organizer of the lecture series "Feminist Theory and Gender Studies" at the Institute for Science and Art (IWK) in Vienna together with Dr. Silvia Stoller (Department of Philosophy). Together with Andrea Braidt (Department of Theater, Film, and
Media) she plans and organizes the lecture series "Queer Interventions" in Vienna. As equal opportunity officer she is involved in the gender equality and anti-discrimination activites at University of Vienna.
Homepage:
http://germanistik.univie.ac.at/personen/hochreiter-susanne/

Contact:
Email: susanne.hochreiter[at]univie.ac.at
Phone: +43-1-4277-421 31
Publications, teaching experience, and research projects (relevant to the IK)
Univ. Prof. Dr. Birgit Sauer

Institut für Politikwissenschaft
Universitätsstr. 7
A-1010 Wien